---
Equine Protection Network Online Store
Shop Online and Your Purchases Support the EPN!
---

As a non-profit, charitable organization that receives no public funds, the Equine Protection Network, EPN, relies on the generosity of animal enthusiasts to help cover the costs of Codieco's care, running the EPN and maintaining our extensive website. Your help and support is essential for the EPN to continue its mission.
---
Your purchases are helping the EPN Save America's Horses! By displaying our message to more people, you help raise awareness about horse welfare issues.
---
Shop for CD's at CDRush.com & the EPN Benefits!
Put "EPN" in the Coupon Code box when you place your order.
---
Online Mall
Shop with our affiliates at our Online Mall & the EPN earns funds to help save the horses!
The EPN needs over $3000.00 a year to provide for each our EPN Sanctuary horses - Please help us care for them & continue to protect them for the rest of their lives from neglect, abuse or slaughter!
---
---
The EPN appreciates the generous donation by Syncopated Press of several copies of the childrens books, "Heart, Hoof, & Soul" and " Forelocks, Fetlocks & Horse Tales" to the EPN.
Your purchases of these books helps to support the EPN in our efforts to improve the welfare of horses and to end horse slaughter.
---
Payment & Shipping
---
The EPN Online Shop now features PayPal®. By using PayPal®, you can be sure that your online credit card payment is safe and secure. PayPal accepts Visa, American Express, MasterCard , and other major credit cards! You can also use your personal PayPal® account to pay for your purchases if you have an established account. If you would prefer to pay by personal check or money order, please use our printable order form.
For your convenience, please use the shopping cart. Simply click the "add to cart" button located next to each item to add one item to your personal shopping cart. Click on the "View Cart" button to view your shopping cart at any time, and then proceed to checkout when you are finished shopping.
Paypal: Books will be shipped within 2-3 business days of receipt of order.


Money Order: Books will be shipped within 2-3 business days of receipt of payment.


Checks: Books will be shipped within 2-3 business days of bank confirmation that check has cleared.
---
Heart, Hoof & Soul
by Kim Marie Wood (Editor), Kimberly Graham (Illustrator)
---

Reading level: Ages 9-12
Paperback - 90 pages;
Dimensions (in inches): 0.30 x 8.43 x 5.46
Publisher: Syncopated Press; ISBN: 0967197864; (December 1999)
Price: $10.00 including shipping and handling within the United States. Payment by Paypal is preferred.
From the Author
What is it about girls and horses? I was fascinated by horses as soon as I could say the word "horse." After years of longing, hoping and dreaming, my parents got me a horse. I was 13 and Mango, my sweet Appaloosa gelding, was only two. But I didn't know how short our time together would really be.
Sharing the bittersweet story of my first horse in EQUUS a few years ago, I found it touched the hearts of many. (My Friend Mingo is included in this anthology.) Not only did I receive mail about my story, I found these readers were eager to share their special horse stories with me and others.
Excerpted from "Heart, Hoof & Soul" by Kim Marie Wood.
Copyright © 1999. Reprinted by permission. All rights reserved.
As I stood in the driveway watching my daughter Lori with her long red hair flying behind her, and Maggie, part Quarterhorse, part Appaloosa, with ears that looked all mule, I smiled. They were running down the dirt country road near our home as they did everyday since Lori was given the opportunity to ride "the big horse."
I remembered when we bought Maggie. My son Jeff, Lori and I went to see her and a Shetland pony, with the possibility of purchasing them. We ended up buying both the spirited 31/2 year old filly, and the feisty little pony we called Ben. Maggie was a bit thin, but healthy and stood 16.2 hands high (a good size for a horse.) In the days that followed, we wormed her, had her hooves filed and shod, gave her a lengthy bath, a good brushing and began to introduce her to her new surroundings.
Jeff was the first to ride her. Maggie wasn't too happy with him and didn't like the bit used on her bridle - so getting her saddled, bridled and ready to ride was always a chore. She was a mover, and loved to run. The trouble was that she also liked to run right under tree branches, knocking the rider to the ground. Maggie proved to be a handfull when she ran under a branch and Jeff ended up breaking a couple of ribs.
During this time, Lori (who had only been on the smaller Shetland and Welsh ponies) bugged me constantly to let her ride Maggie. Knowing what it took to control Maggie, I always denied Lori a chance to get on her.
At the end of a rather hectic day, Lori again pleaded with me to let her ride Maggie. Tired of her constant nagging, I gave in and told her I would let her ride the horse for a short time, but if she got hurt, it was to be the last time I wanted to hear her ask. She agreed...
---
"Forelocks, Fetlocks & Horse Tales"
by Kim Marie Wood, Kimberly Spatrisano-Graham (Illustrator)
---

Reading level: Ages 4-8
Paperback 105 pages ;
Dimensions (in inches): 0.42 x 8.42 x 5.51
Publisher: Syncopated Press; ISBN: 0967197821; (September 1, 1999)
Price: $8.00 including shipping and handling within the United States. Payment by Paypal is preferred.
From the Author
Featuring fictional short stories about children and their horses, written in "high-low" format (high interest, low reading level) to help children develop their interests in reading.
A huge blizzard is keeping Julie's parents from flying home for Christmas. It's going to be just her and Aunt Jeanne... (Christmas Wishes)
Her little brother James may think it's okay to move from the city to the middle of nowhere, but Anna is not convinced... (On the Farm)
Just because Allen has to stay with a foster family, it doesn't mean he has to like it... (Barney)
Read these short stories and more in "Forelocks, Fetlocks & Horse Tales".
Enjoy learning how a horse touches the mind and heart of each of these young people (and yours, too).
Excerpted from "Forelocks, Fetlocks & Horse Tales" by Kim Marie Wood.
Copyright © 1999. Reprinted by permission. All rights reserved
On the Farm "Just great!" complained Anna. "Not only do we have to move away from all our friends, but we have to live with Grandma and Grandpa for the rest of the summer!"
"Mom and Dad already told you, they have to sell the house. Besides, you always liked staying here on the farm before," offered her ten-year-old brother. "What's the big deal? Look James, you KNOW I love Grandma and Grandpa. But visiting for two weeks in the summer is different from leaving the city permanently. We're moving to the middle of nowhere for good! No more walking a few blocks to do practically anything you want to do. And most of our neighbors here will have either fur or feathers!" Sitting on the picnic table in their grandparents' backyard, the idea of moving had really sunk in. For James, his sense of adventure helped him see that moving could be "way cool." But for Anna, at twelve, it seemed like a jail sentence, leaving both her friends and familiar life behind. A honking horn made them both turn around. It was their family car pulling up the long gravel driveway. James ran to greet his parents, but Anna lagged behind, refusing to just go along with everything so easily.
"Help us carry in these groceries, you two!" called their father. "Your mother bought out the store, trying to stock Grandma and Grandpa with all your favorites!" "Alright, Mom! You got my favorite cereal!" James grinned. "You'll find lots of your favorite things inside those bags, once you carry them into the house," said their mother. "Come on Anna, give us a hand here."
Walking slowly to the car, Anna looked at the number of bags in both the back seat and the trunk. "That's a lot of food, Mom You are coming back eventually, aren't you?" she asked suspiciously.
Their parents looked at each other and exchanged silent glances of understanding. Anna was going to be a hard sell. "Come on guys, let's get these groceries put away for Grandma. She'll be busy full-time just trying to feed you both," said their father.
Grandpa met them all at the back door. "Right inside here," he smiled. "As soon as you get the groceries put away, Grandma has lunch ready for us."
Sitting at the long kitchen table, everyone was busy eating lunch and chatting except Anna. She sort of pushed her potato salad around on her plate, picking up her sandwich and putting it down without taking a bite. Careful not to be too obvious as she sulked, Anna asked to be excused to check the mailbox. The driveway was long enough to give her some time to herself if she walked slowly.
It was too soon to expect any mail from her friends, but Anna was still hopeful as she opened the big country mailbox. Although there was nothing with her name on it, she was interested in a postcard for Grandpa that advertised a farmer's auction on Saturday. It advertised livestock for sale, as well as farm equipment. It wouldn't be the same as riding a school horse at Meadowbrooke Stable, but maybe there would be some horses there. She decided to ask Grandpa if he was going.
"Well, sure," Grandpa answered. "I always enjoy spending a Saturday at the auction. But Grandma might have something to say about it. I never seem to come home without buying something."
---
---
The Horse That Paints Sandi and her horse Hadancy are hard at work raising awareness about horses at risk. Sandi is donating half the profits from the sale of Hadancy's work to the EPN!
The EPN will be auctioning off one of Hadancy's framed paintings during the EPN Benefit Auction! The date will be announced via our online EPN Newsletter!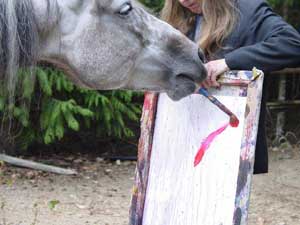 She started painting about 2 months ago and has already sold 9 of her paintings with quite a few people expressing an interest in her work she has also sold many cards of her images...
Make sure you mention the EPN when you place your order!
Thank you Sandy & Hadancy!
Click on Hadancy to go to her website for a preview & order information!

Catalog of Hadancy's Work