---
---
Double Deck Possum Belly Trailers
Download a card and carry in your car. Help enforce PA law banning the use of double deck trailers to transport any horse, no matter what its final destination!
---
This is the rear of the trailer, the section of above the rear wheels. It is also known as the doghouse section. The handle in the floor is for a door in the floor that lifts up to reveal a ramp in the floor to the bottom deck of the trailer. The small door in the center of the picture is also opened to load horses into the bottom deck.
On the left of the picture is the ramp comes that down for loading to the top deck.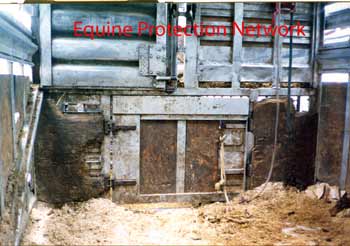 ---
---
Please send your tax deductible donation to:

Equine Protection Network, Inc., P. O. Box 232, Friedensburg, PA, 17933
The official registration and financial information of the Equine Protection Network, Inc., may be obtained from the PA Department of State by calling toll free within PA, 1-800-732-0999. Registration does not imply endorsement.